The
2009 Arizona Flying Circus
, scheduled for February 6 - 8, hosted at the legendary
Francisco Grande Hotel & Golf Resort
south of Phoenix, Arizona at 26000 Gila Bend Highway, Casa Grande, AZ 85222. The telephone numbers are: (800) 237-4238 or (520) 836-6444.
Contact Information
Please contact the following people for further information, including Vendor or Sponsor Information:
Event Pricing Options
Full Event Pilot Registration (3 Days) Reg Online
$75.00
Full Event Pilot Registration (3 Days) At Event
$85.00
One Day Pilot Registration (Fri, Sat or Sun)
$35.00
Fixed Wing Ultralight/Trike Fly In & Hang Out (1 Day)
$10.00
RV Parking Entire Event (3 days)
$50.00
Event Sponsor
$150.00
Event Vendor
$225.00
Spectators
FREE
See the Registration page for details.



Pilot Registration Pack
Download the pilot registration pack, you can pre-fill out all the registration pages and waiver forms, bring them with you and save a bunch of time at the registration table!

Download the Pilot Registration Pack Here!


Pilot Events and Other Fun Things Going On This Year!
Para-Cache Poker Run
Kiting War or 2 Man Kiting Race
Bomb Drop
Sky Divers
Fire Cannon

Mass Tissue Paper Balloon Lanch
Seminars and Clinics
Eagles Nest Dinner Party & Raffle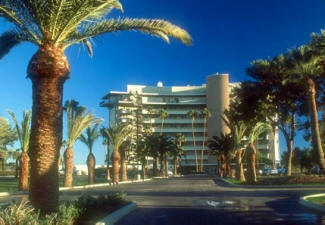 Restrictions
Unlike any other PPG event, this is being held at a premier resort. The hotel forbids on site camping in tents, pets without a leash, or outdoor cooking. See the bottom of this page for details on RV camping. There will be food available on site from morning to evening. And there are a plethora of restaurants near by.
Weather
The weather in Arizona at the beginning of February is typically gorgeous. We often fly in T-shirts in the afternoons.It is not uncommon for the temperatures to get in the high 70's or mid 80's during the day. However, the early mornings and nights can get cold. Come prepared for low 40's or high 30's at night or early morning. Usually with two hours of sunrise, the temperatures quickly rise back to comfortable.
Casa Grande is in the heart of the Sonoran Desert so the humidity levels are very low and precipitation is almost non-existant (except for last year's fly-in where we had record rainfalls). We are experiencing a very dry year. It is suggested to bring sun protection (hats, sun block) to avoid the over exposure of the harsh desert sun and typically cloudless skies.
Visit these links for more information on current Arizona weather:
Casa Grande Weather
Flying Weather
Airspace
The airspace for the event is Class G and E starting at 700' AGL. The elevation of the Francisco Grande is 1300' MSL. The Francisco Grande Hotel is within 2 miles of a VOR tower, so certainly expect air traffic, including IFR approaches. The closest major airport is Casa Grande (CZG). Here is alink to a
Sectional Chart
of the area.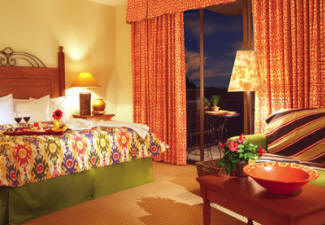 Francisco Grande Hotel Room Rates
We have arranged for a block of rooms for the event at a special discounted rate, Once the rooms in our block are gone, these discounted rates may not be available. The prices are:
$89 for a Courtyard Room
$129 for a Tower Room
$154 for an Executive Suite
Each luxurious room is spacious enough to sleep four adults.
To reserve your room, call (800) 237-4238 or (520) 836-6444 and mention 'Arizona Flying Circus' when you book your room.
Other Nearby Hotels
Visit this
Google Link
for more information on nearby hotels.
Below is a listing of the nearest hotels and motels:
Holiday Inn, Casa Grande
5.2 miles E
777 N. Pinal Ave, Casa Grande, AZ 85222
Phone:
(520) 426-3500
Web:
http://www.holidayinnarizona.com/
Se-Tay Motel
5.2 miles E
901 N Pinal Ave, Casa Grande, AZ
Phone:
(520) 836-7489
Arizona Motel & RV Park
5.2 miles E
1211 N Pinal Ave, Casa Grande, AZ
Phone:
(520) 836-7802
Boots & Saddle Motel
5.2 miles E
509 W 2nd St, Casa Grande, AZ
Phone:
(520) 421-2020
Courtyard Apartments
6.6 miles E
2060 N Trekell Rd, Casa Grande, AZ
Phone:
(520) 836-4012
RV Dry Camping Rates
RV's are permitted to dry camp on the hotel premises for $50, this fee is for the Entire 3 Day Event! Payment includes use of all facilities at the hotel. Please select the RV Parking option when you register online or make sure to pay at the AZPPG registration area when you arrive. RV Parking will be stricktly enforced and all RVs must display an event parking pass which can be picked up at the registration booth.
Site Layout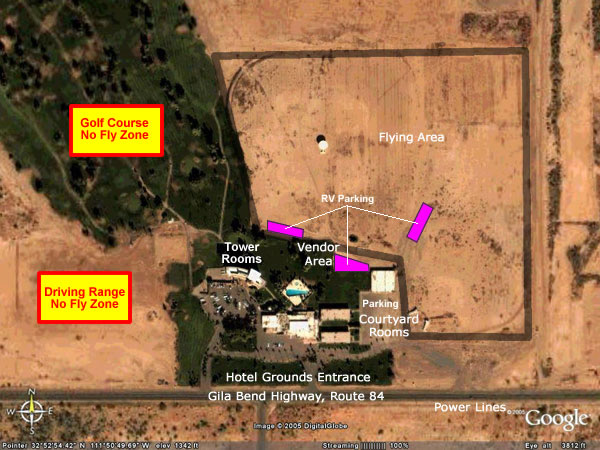 Satellite Overview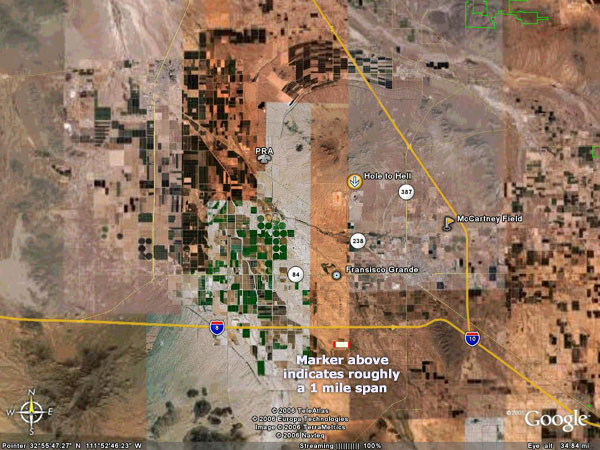 Shipping Your Gear
If you desire to ship your equipment in advance of your arrival, you can send your gear directly to the Francisco Grande Hotel and Golf Resort. There may be a fee involved depending on the size of the package(s) and how long they are storing your gear for. Call LeVonne Badger at the Hotel at 520-836-6444 for details. The address to send gear to is:
Francisco Grande Hotel and Golf Resort
Attn: LeVonne Badger for Arizona Flying Circus
26000 Gila Bend Highway
Casa Grande, AZ 85222
Other Relevant Information
Ineteractive State Map
State Calandar of Events
Arizona Attractions